Ticket info
Everything you want to know about your ticket(s).
Online
You can order tickets through our website 24/7, until 1 hour before the show. You can pay immediately by credit card (VISA or Mastercard), or you can opt to pay within five days by bank transfer. Tickets will be sent by e-mail after receipt of payment.
At the box office / by phone or email
Open from Tuesday to Friday, noon to 7pm
KVS BOX
Arduinkaai 7 Quai aux Pierres de Taille
1000 Brussel
s
02 210 11 11 or tickets@kvs.be
Season subscription
Book your subscription (min. 6 different performances) from 1 September 2023 on and you will get a 20% discount on the standard price. This discount also applies to every extra performance you book afterwards. You can choose from almost all productions in KVS BOL and BOX.


Social rates
Paspartoe is a leisure pass that inhabitants of Brussels can use to partake in cultural, youth or sports activities at a discount. With this pass, you can attend a performance for only €2.
Under Article 27, people from vulnerable segments of society pay €1,25.
Through Lastminutetickets you can get last-minute tickets at half price.
BrusselArt (Lasso) wants to help organizations in Brussels and Flanders find their way to Brussels' rich cultural offering.
The more, the merrier. And the lower the price. When you come with 15 or more people, you enter at reduced price. You will receive one free ticket for groups of 20 people or more.
Evening box office
The evening box office is open as from one hour before the show starts.
If you book less than a week in advance, you can pay for your tickets at the box office on the night, at least half an hour before the show starts. You can pay cash or by debit or credit card. 


Waiting list
If the show is sold out, you can put your name on the waiting list at the evening box office (not by phone), as from one hour before the start of the show. We can't guarantee you a seat, but there is a very good chance that you will be able to see the performance after all. If you are on the waiting list you must pay for your tickets in cash.
Seating plan
For KVS BOX there is a standard rate for the entire hall.
In KVS BOL the places are numbered and you choose where you want to sit. Below, you can see category 1 indicated in green and category 2 in red.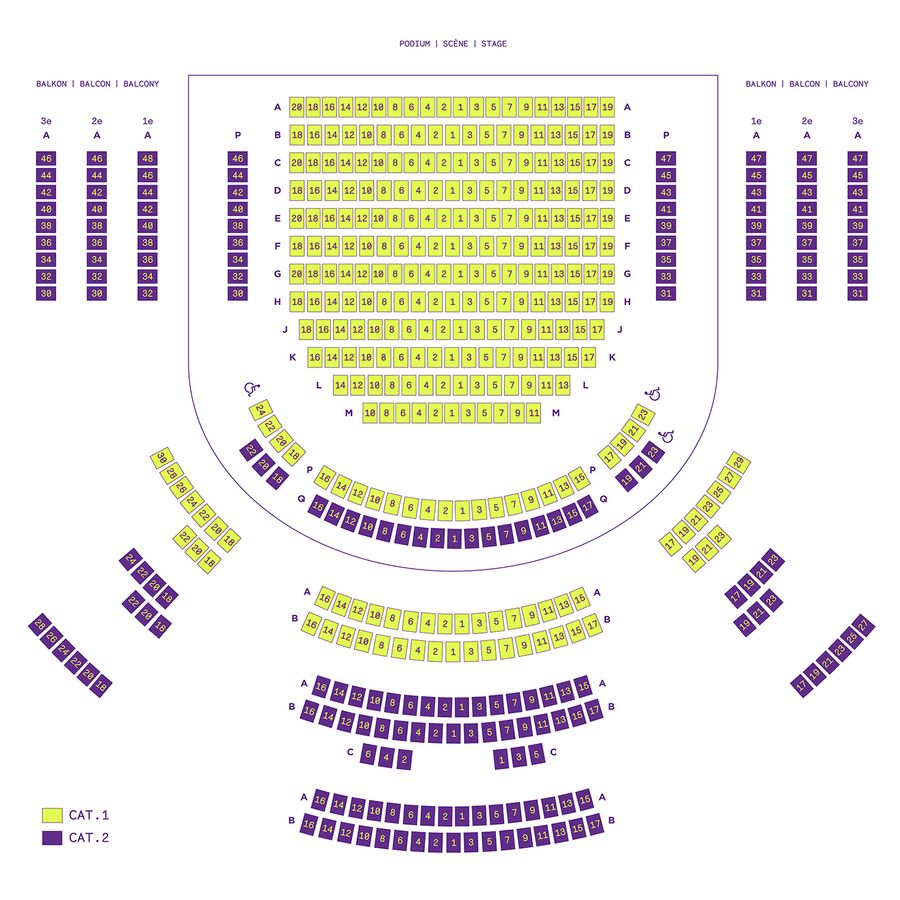 Give the KVS as a gift
Gift vouchers for any value you choose are available at the box office and online. They are valid for 1 year and can be exchanged for tickets for performances at the KVS itself.
Sales conditions
Performances start on the dot. In order not to disturb the performances, we don't let anyone in after they start.
Keep your ticket on you during the break; this will allow for a smooth reentry.
If you have bought tickets with a concession, always bring proof of validity, it may be requested at the door.
Only in case of cancellation of the performance by KVS, tickets will be refunded.
We do not refund tickets of latecomers or unused tickets.
You can exchange tickets by telephone or at the reception, but only for the same performance on a different date. For the exchange of tickets, and for administrative work due to late payments, a charge of €2.5 will be made.
Your seat is only assured once payment has been received. Any bookings that are not paid on time are put up for resale.
According to the Belgian law (art. 53 12° Code of Economic Law, Book VI), the purchaser has no right to cancel the purchase.

If you need an invoice for your tickets, please email tickets@kvs.be with your ticket request and invoice details. If you purchase tickets directly online, we are unable to provide an invoice afterwards.
Free metro-tram-bus thanks to the STIB Event Pass
All prices include an MIVB Event Pass that entitles you to a return trip on MIVB trams, buses and metro on the day of the performance.
Choose Event Pass on any GO distributor
Enter the 9 digit code from your KVS ticket
You will receive your free ticket!