Nomadics
Voetvolk / KVS
Sat 30.09.2023
-
Sun 01.10.2023
WALK

KVS, Brussels

KVS BOL

WALK

KVS, Brussels

KVS BOL

WALK

KVS, Brussels

KVS BOL

WALK

KVS, Brussels

KVS BOL

WALK

KVS, Brussels

KVS BOL

WALK

KVS, Brussels

KVS BOL

WALK

KVS, Brussels

KVS BOL

WALK

KVS, Brussels

KVS BOL
The performers depict how nature looks back at man and suffers their footsteps. They embody how she reclaims her place and retaliates. This is done from an inadequate - because human - but also infectious and whimsical imagination.
Nomadics allows dancers to become a (passing) raging landscape. Sometimes they are tree, sometimes they are grass. Sometimes they are rock or human. This constant transformation results in beauty as well as friction: there is tension in the air. But as physics shows us: friction eventually leads to warmth, deceleration or change. Or again: through the struggle, the dancers in Nomadics seek connection, both with nature and with each other.
In the process, music is in strong symbiosis with dance, as always at Voetvolk. Maarten Van Cauwenberghe has recorded sounds during walks - footsteps, water, wind in the trees, highways... – and has turned them into environmental techno.
Before the show, the dancers take a kilometres-long walk, along with anyone from the audience who feels like joining them. The dancers appear at an agreed place and time and pick them up for a walk that is all about looking, experiencing and connecting with the landscape. From the stimuli and noise of the city to the tranquillity of the country. And back to the hustle and bustle. They end on stage, where the paths separate again, and the performance can begin. But the experience of the journey returns in intensified form.
You can experience the performance in four ways
You only attend the performance (KVS BOL, 8 pm).
Long walk: You will join us for a walk of approximately 4 hours, which starts at Bosvoorde train station (in Watermaal Bosvoorde), assembly at 15h45 on 28, 29 & 30 September, assembly at 13h45 on Sunday 1 October. You walk through the Brussels landscape towards the KVS. Afterwards you attend the performance at KVS BOL.
Short walk: ou walk the last part of the tour (4 km), and join the group on Place Flagey in Ixelles, assembly at 18h45 on 28, 29 & 30 September, assembly at 16h45 on Sunday 1 October. Together you will then go to KVS BOL, where you will attend the performance.
You are in a wheelchair? Then you can join in on the walk in the Park of Brussels - at the intersection of the Steekspeldreef and the Troondreef - for the last 2 kilometers of the tour. Would you like to do this? Then please contact our reception by phone (+32 (0)2 210 11 00). This way we can provide the correct guidance.
Join us on foot? Register via the registration links under Tickets here above and choose the long or short walk.
Are you walking along? Please be present at the starting point / connection point 15 minutes in advance. This way we can certainly leave on time. Too late anyhow? Use this link to see where the group is and catch up if necessary.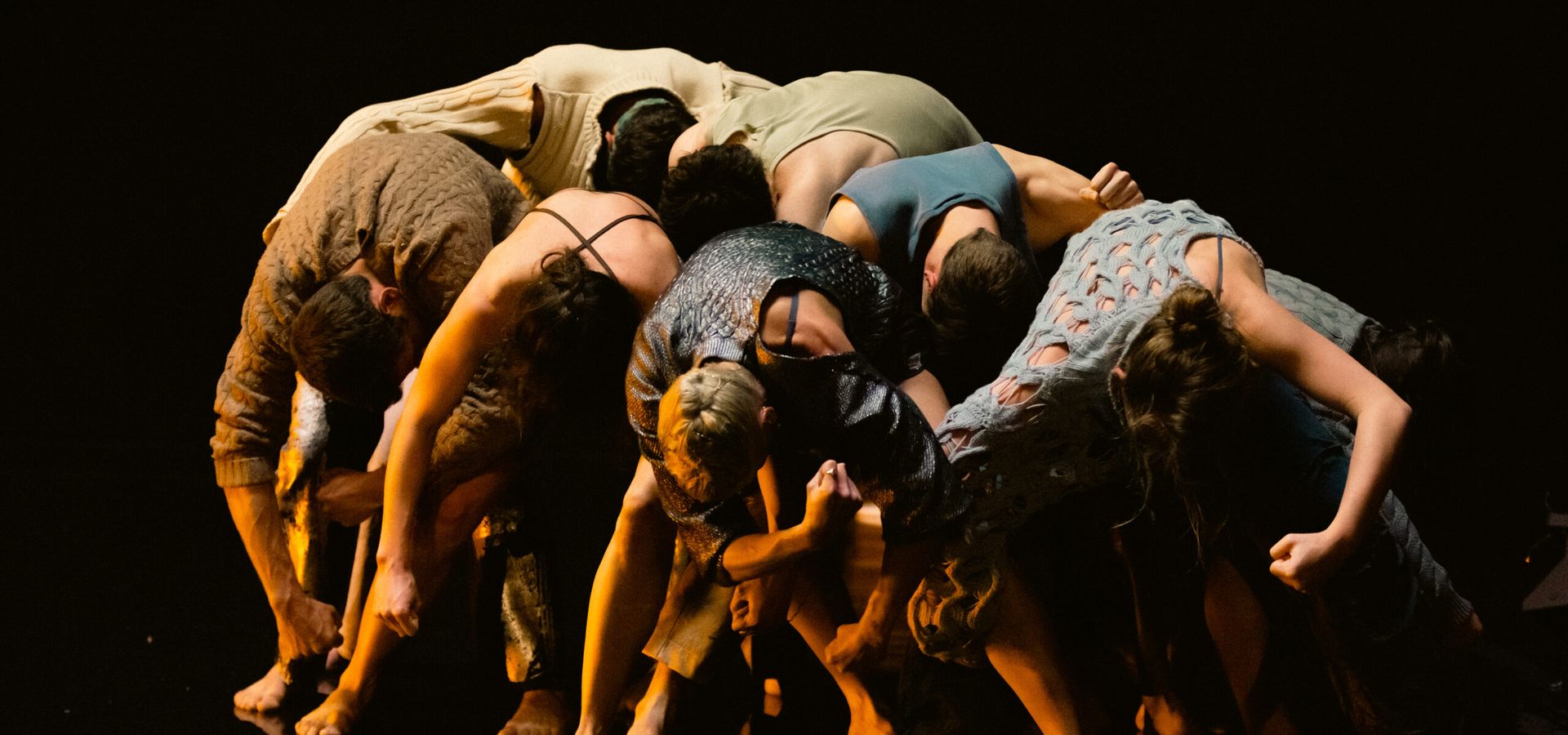 Credits
CHOREOGRAFIE / CHORÉGRAPHIE / CHOREOGRAPHY Lisbeth Gruwez MUZIEK / MUSIQUE / MUSIC Maarten Van Cauwenberghe PERFORMANCE / INTERPRÉTATION Antoni Androulakis, Simon Arson, Francesca Chiodi Latini, Lucie Domenach, Raoul Riva, Valeria Saija, Artemis Stavridi, Victoria Rose Roy DRAMATURGIE / DRAMATURGY Bart Meuleman LICHTONTWERP / CONCEPTION LUMIÈRE Jan Maertens KOSTUUMONTWERP / CONCEPTION COSTUMES Eli Verkeyn REPETITOR / RÉPÉTITEUR Francesca Chiodi Latini STAGIAIRE Victoria Rose Roy & Emma Meerschaert PRODUCTIE / PRODUCTION Voetvolk vzw COPRODUCTIE / COPRODUCTION KVS – Royal Flemish Theatre, Perpodium, Julidans, Theater Freiburg & Charleroi Danse RESIDENTIES / RÉSIDENCES / RESIDENCIES KVS, Kunstencentrum Nona, BUDA, Charleroi Danse, Voetvolk Atelier Rubigny MET DE STEUN VAN / AVEC LE SOUTIEN DE / WITH THE SUPPORT OF The Flemish Community & the Belgian Tax Shelter