Jonathan test performances: guaranteed safety
With this test week, KVS wants to partake in ground-breaking new research with full transparency and in collaboration with government, virologists and various professional partners. Each performance will take place under strict regulations and will respect the relevant protocols in order to guarantee the safety of our audience. This way, KVS wants to fulfil a public need for safely organised events.
How we've missed you! After months without performances, we look forward to welcoming you back to our KVS BOL. All without any effect on the theoretical risk of infection.
 
With support from Brussels, we will be organising test events from 28 April. This means that a seated audience will be able to enjoy the marvellous theatre performance Jonathan by Bruno Vanden Broecke and Valentijn Dhaenens in a controlled environment, wearing surgical face masks provided by us, after a negative rapid test.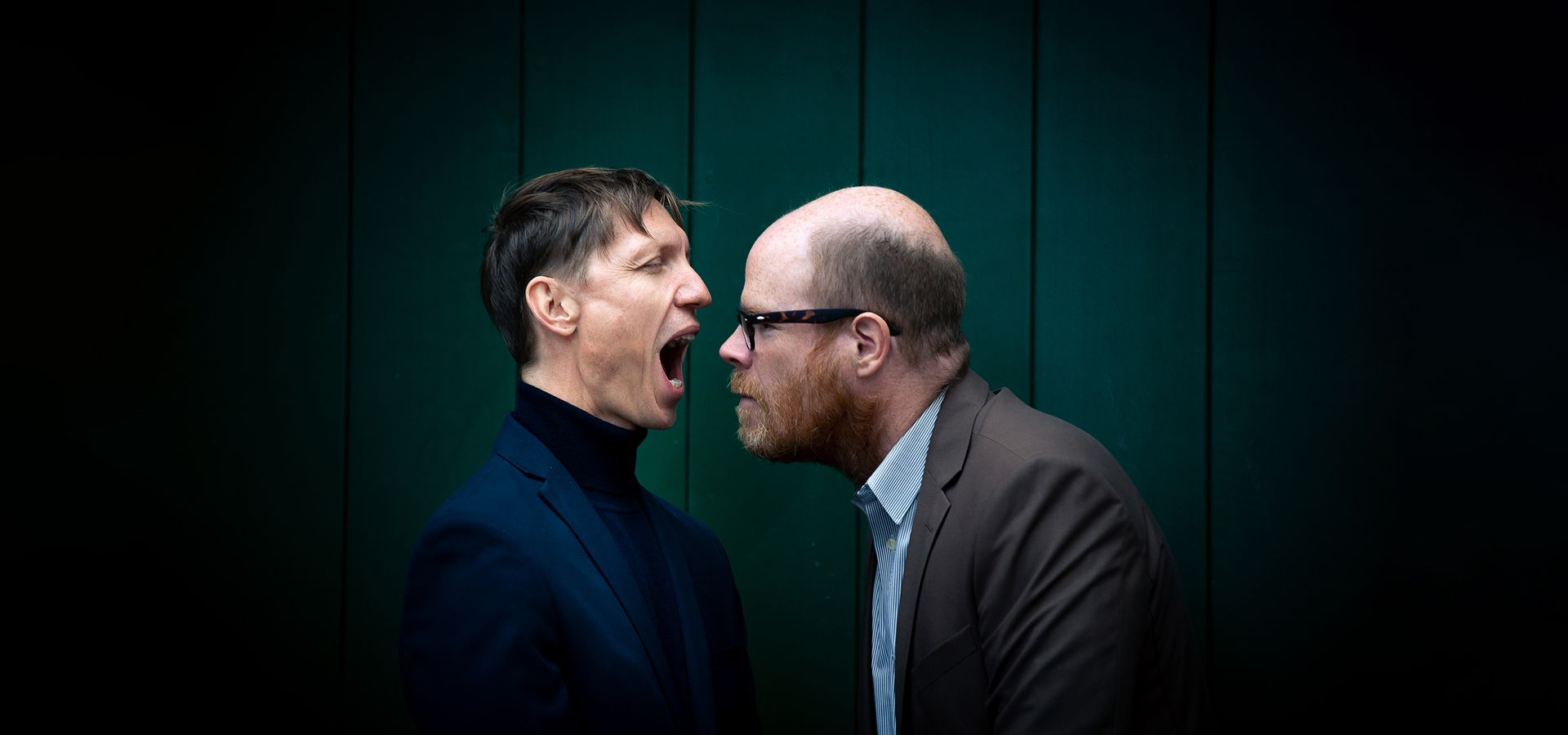 General precautions
To make sure you can enjoy the evening in safety, a number of precautions will be in place during and around your visit. It is of the greatest importance that everyone follows these strictly.

Air quality and ventilation: data is knowledge
Specifically for this test week, KVS has created a permanent, real-time monitoring system with recently installed air sensors. This system allows us to check the air quality in the auditorium in real time. A mechanical ventilation system circulates the air and corrects the quality where necessary. Air quality monitoring shows us how low the risk of infection is. Five different parameters are measured, with CO2-levels, humidity and particulate matter as the most important ones. Our Risk Calculator shows the theoretical risk of infection through airborne transmission based on these parameters. If the Risk Calculator indicates unfavourable results, the number of visitors for the next evenings will be reduced.
Audience capacity
On 28, 29 and 30 April we will be performing for 100 visitors. We also want to test whether a theatre with a seated audience who all wear masks can be filled to a larger capacity without any negative effects on the theoretical risk of infection. We will therefore gradually increase seating capacity for the test events on 4 May (150 visitors), 6 May (201 visitors) and 8 May (249 visitors).
Everyone will be tested, including you
You will be tested right before and one week after the performance. Prior to the performance, you will need to undergo a rapid antigen test. This test is performed by taking a shallow nose sample. The results are available after 15 minutes. Only those who test negative will be admitted. If you test positive, you will be asked to go in quarantine, notify your doctor, and a PCR test will be necessary to confirm the result.
One week after the performance, you will have to undergo a PCR test at a test centre. You will receive all the relevant information about this test later on.
Circulation
Our front of house staff, in close collaboration with Covid Safety Services, will guide visitors to their seats. Please follow the indicated routes and always maintain a 1,5-metre distance.
Masks & hand sanitiser
Wearing a face mask at all times is mandatory for every visitor, out of respect for those around you. Once your test comes back negative, you will receive a surgical face mask which you must wear for the rest of the evening. Front of house staff will be monitoring audience compliance. Hand sanitiser will be provided throughout the building.
What does an evening of test theatre look like?
Before the performance
Before entering the auditorium, you will register at the tents on the back square of KVS BOL for your rapid test. Please follow the markings on the ground. Make sure you are on time for your reserved test time slot. After taking the test, you will wait in the tent for 15 minutes until the results come in. If your test was negative, you will receive an entry pass allowing you to enter the building.
During the performance
The doors of KVS BOL open from 7pm. You will be assigned a place when you register. As a bubble you always sit next to each other. Front of house staff will guide each bubble of visitors to their seats.
After the performance
Please leave the auditorium when prompted by staff. Our foyer will be closed, both before and after the performance. Please do not hang around by the building after the performance, as a ban on assembly will still be in place.
You are helping the entire sector
We finally wish to note that we do not intend to make our colleagues – who we thank for their support – repeat the same work. As a sector, we want to invest our means and our time in cultural development, as soon as possible. We therefore count on you to provide your opinion on the evening's experience through the survey we will send you after the performance. That way, our results will be of service to the entire performing arts sector – results we can only obtain thanks to you. 
Questions?
Do you have any further questions or doubts? We are here for you! Feel free to contact us at 02 210 11 00 or at info@kvs.be.